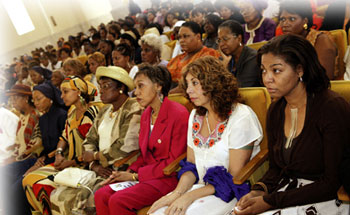 I was inspired this past weekend to push back my next planned subject matter for a moment and address the ill treatment of women as the country prepares to observe Mother's Day.
Let's get into "The Upper Situation Room"
What inspired this blog? I was a guest speaker at a conference in Austin on the campus of Huston Tillotson University. Before my workshop, I attended the spiritual seminar in the university chapel. Each speaker represented a different religious sect. Only one of the speakers was a woman, who summed up her inspirational short talk by saying, "I came to tell you that you're not alone."
As I listened to her beautiful expression of the Word of God I got sad, because I reflected upon how we rarely get a chance to see this in our religious institutions and even our organizations. We lack the beauty of seeing women having the consistent freedom to express their God-given gifts, because so many of us as men beat down women. Women suffer so much abuse whether it is in the home, business, or religion.
I learned that in some foreign nations the birth of a female child is frowned upon. How can you frown upon a little girl, who eventually may be used as a vessel to bring forth new life in the future? I have watched some men use religion and scripture to justify personal oppression of women. However, that is not God's Way.
As I entered into the Nation of Islam, I saw that we as Black men had our issues as well. Coming out of this society, we are bred in the slums of America to be disrespectful to our women.
[CLICK HERE TO READ THE FULL BLOG AND COMMENT]
Written by Brother Jesse Muhammad for HoustonBelief.com