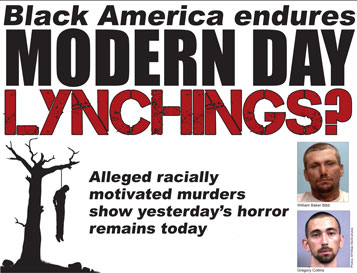 by Jesse Muhammad, for The Final Call Newspaper
(FinalCall.com) - Anthony Hill is the latest victim in an on-going pattern of modern day lynchings against Blacks in the United States, say activists.
According to South Carolina authorities in Newberry County, Mr. Hill was shot in the head, tied up and dragged several miles by a White male in early June. In another incident, a young Black woman near Beaumont was also allegedly beaten to death then tied to the rear of a truck and dragged.
These horrendous incidents seem similar to the murder of James Byrd, Jr., who was killed in 1998 in Jasper, Texas. The 49-year-old Black man was chained to the rear of a truck and dragged along a rural road.
"The dragging death of Anthony Hill is a sadistic and brutal hate crime and Gregory Collins should be charged and tried with a federal hate crime and not merely in state county court," said Attorney Malik Zulu Shabazz of the New Black Panther Party for Self Defense.
The group along with Black Lawyers for Justice, county community leaders, and residents held a press conference on June 10 outside the Newberry County Magistrate Building to demand justice.
"As in the James Byrd case in 1998 in Jasper, Texas, the use of ropes to tie a Black man up and drag him behind a pickup truck until he is just blood and bones is clearly a modern day lynching used to not only murder the immediate victim, but also spread fear amongst the wider Black population and society," said Attorney Shabazz.
"That is awful what happened in South Carolina and it just continues. I know firsthand that America has not progressed racially because whenever hate crimes are done to Blacks, the murderer goes free. But if a Black man is the one committing the crime it's a different outcome in the courtroom," Jacqueline McClelland told The Final Call. She says she lost her son, Brandon McCelland, to a similar dragging in Paris, Texas in 2008.
Greg Collins, who is White, has been arrested for allegedly tying up Mr. Hill around his torso and neck and dragging him 10 miles after first shooting him in the head.
According to Newberry County Sheriff Lee Foster, agents discovered dozens of weapons inside Mr. Collins' rented mobile home. Mr. Collins is charged with murder and the case is being investigated by the FBI as a possible hate crime.
"We don't yet have a definitive motive for all this. We don't want to attribute something to Collins that isn't necessarily true," said Reggie Lloyd, who directs South Carolina State Law Enforcement Division.
"But out of precaution, given the circumstances, we are investigating the racial angle," said Mr. Lloyd.
According to the 2008 FBI Hate Crimes report, over 2,100 agencies reported 7,783 hate crime incidents involving 9,168 offenses, with 4,704 offenses racially motivated. Of these offenses, 72.6 percent were motivated by anti-Black bias, 64.0 percent were due to anti-Hispanic bias because of nationality, and 17.3 percent stemmed from anti-White bias.
The Matthew Shepard and James Byrd, Jr. Hate Crimes Prevention Act (formerly the Local Law Enforcement Hate Crimes Prevention Act of 2009)was signed into law on October 28, 2009 by President Barack Obama but Ms. McClelland only sees it as a piece of paper that does not serve justice for the poor and Blacks.
"What the president needs to do is conduct a thorough investigation into the files and practices of these courthouses. They are rotten and corrupted. It seems like if you don't have a lot of money you can't fight. This is still going on 12 years after James Bryd," said Ms. McClelland.
The act authorizes the federal government to investigate and prosecute bias-motivated crimes based on the victim's actual or perceived sexual orientation, gender, gender identity, or disability. The bill also gives the federal government jurisdiction over prosecuting hate crimes in states where the current law is inadequate or when local authorities are unwilling or do not have the resources to do so themselves.
"Since President Obama has been elected there has been a noted spike in hate crimes and racist acts toward Blacks, Mexicans and Hispanics. We call on President Barack Obama to stand up and deal with the reality that this has not become a 'post-racial society.' In fact things are getting worse. With the rise of the Tea Party and other Confederates, demanding to 'take their country back' certain aspects of society have become even more polarized and extremely dangerous," said Attorney Shabazz.
[CLICK HERE TO READ THE FULL ARTICLE]
Advertisement: Who Are The Real Children Of Israel? (DVD) **Pre-Order** Click!