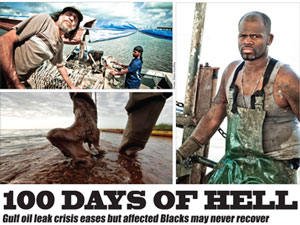 While the country celebrates BP's successful effort to finally cap a deepwater well gushing oil into the Gulf, Black fishermen are losing millions in revenue, complain of being deprived of recovery jobs and denied payments made to those affected by the spill and expect to suffer at least five years while trying to bounce back from this environmental nightmare.
The disaster could mean the complete extinction of Black fishermen in that area and the end of a way of life. The fishermen want BP, the multi-billion corporation responsible for the spill and the first Black president to do more—and do it now.
"We have nowhere to go. This is destroying families that have been working in this area for generations. I'm angry and I am ready to take this fight on. I don't care about being politically correct. My people are suffering and it has to stop now. Our country should not be bowing down to BP and allowing them to dictate policy!" oyster fisherman Byron Encalade told The Final Call.
Mr. Encalade is president of the Louisiana Oysterman Association and the South Plaquemines United Fisheries Cooperative. His town, Pointe A'La Hache, is a small fishing village in Plaquemines Parish with approximately 300 people, mostly Blacks.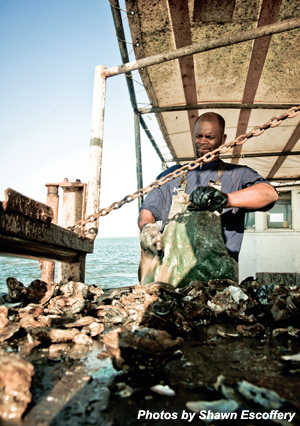 "The African American community in East Pointe A'La Hache is being wiped. All of our oyster beds are dead and provided that we get the money owed to us, it may take five to seven years before we recover from this spill. We're losing our culture and many may never recover from this like Katrina," Mr. Encalade said.
The Black fishermen of Pointe A'La Hache have been a major factor in making Louisiana the top provider of shrimp, oysters, crab and crawfish in the U.S. while helping to generate $2.4 billion a year for the state economy.
'We don't know what tomorrow will bring'
"These people have made millions on the backs of Black people like us working in the Gulf and we get treated like this. They have deprived and robbed us and it is time for someone to own up. I am tired of this crap and my group is getting ready to launch a national campaign to embarrass this country," said Mr. Encalade.
"
BP has treated me like sh--
t. Every time I came with documents for my claims they kept asking me for more documents. Now they are telling me I won't receive anything in the month of August until I show more documents," oyster fisherman Bert Battle told The Final Call.
Read this full report by Jesse Muhammad in The Final Call Newspaper log on to
http://www.finalcall.com/artman/publish/National_News_2/article_7178.shtml